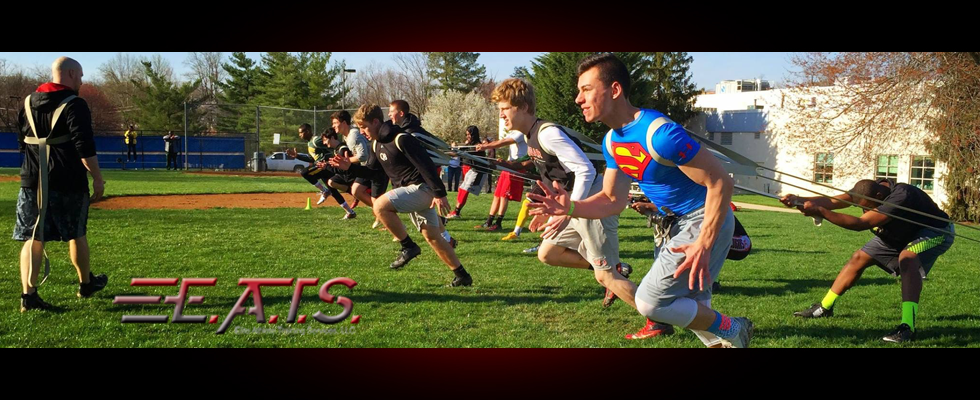 Elite High School Performance Training
The High School Performance Training program is designed to prepare our athletes to compete at a higher level of competition, by progressing to more advanced sports performance training. We focus on maximum increases in Speed, Strength, Agility, Explosiveness, & Conditioning in order to provide them the tools to excel in whatever sport they wish to compete.
The first step is a one on one consultation with our training staff. During this free consultation an E.A.T.S. Coach will discuss your personal athletic goals, conduct a movement screen to identify any movement dysfunctions, limitations, or injury risks and advise you on the appropriate training program for your needs and goals.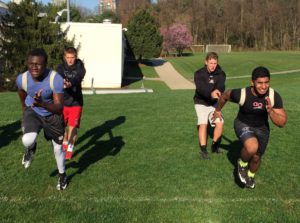 You can choose to participate in the follow  programs
Speed Agility and Conditioning (SAC)
Our Speed, Agility, and Conditioning (SAC) Class is a professionally designed and implemented training program specifically aimed to improve each athlete's Acceleration, Deceleration and Change of Direction skills, First Step Explosiveness, Linear Speed, Reaction Time (Visual and Auditory), Lateral Quickness, Strength Development, Physical and Mental Toughness, and Sport Specific Conditioning Level.
Strength Development Training
Our Strength Development training (Small Group) program adheres to our High Intensity Training (HIT) and Applied Functional Science (AFS) Philosophies and focus on the strengthening all of the major muscles of the body in a functional manor that insures Injury Prevention (Pre-Habilitation) Muscular Balance and Performance Enhancement.
Strength Development Training at E.A.T.S. consists of two phases: Foundational Strength Development and Advanced Strength Development. In the first phase, our athletes will be introduced to the fundamental loading patterns and will develop a solid foundation of strength, mobility, and athleticism on which we can build the complete athlete.
In the second phase, more advanced strength development programming and overload principles are introduced, including conventional weight lifting, olympic lifts, and plyometric exercises.

Program Benefits include Improved
Flexibility, Mobility and Core Strength
Strength, Power, Acceleration and Speed
Quickness & Agility
Sport Specific Conditioning Level
Sports Nutrition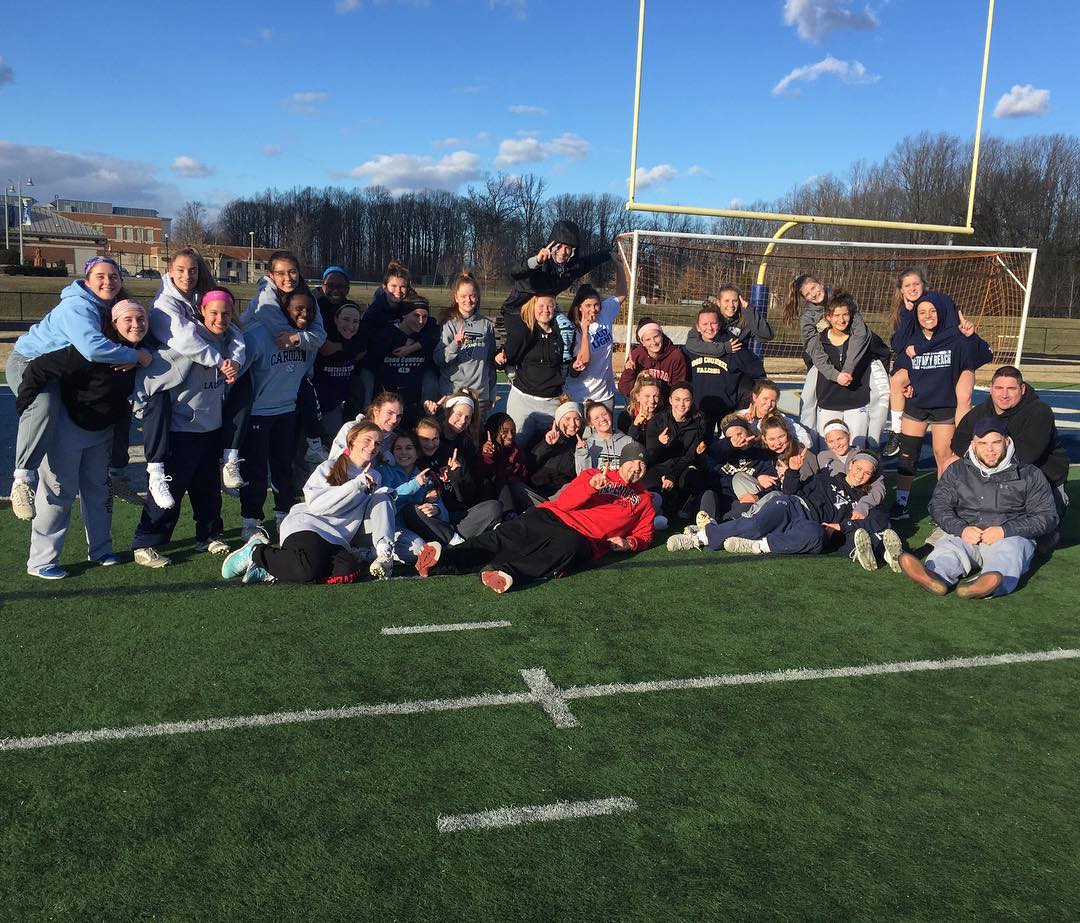 Ryan Hines
The E.A.T.S. Team provided our players with the highest level of training that prepared them physically and mentally for the season. Because of the work the E.A.T.S staff provided we entered the season ready to go and were able to spend more time coaching fundamentals and team rather than conditioning. More importantly than conditioning our player's bodies the E.A.T.S. staff conditioned tem mentality as well. Always preaching the "Never be Satisfied" motto, our players bought into this and it carried them to Ravens Stadium and the 2010 4A State Championship! A big part of our success is owed to Colin Quay and the E.A.T.S. staff that worked with our players this summer.
Ryan Hines, Head Varsity Football Coach
Urbana High School "Hawks"
Al Thomas
For the past several years many of our players have been involved in individual training with E.A.T.S. In addition E.A.T.S. has organized and coached team workouts two nights a week throughout the summer. We believe this has been a significant reason for our team success which this year included a 14 – 0 record and the 4A 2008 State Championship. I recommend that all coaches and players get involved with the E.A.T.S. year round program, and I believe you will be happy with your team's progress.
Al Thomas, Former Head Varsity Football Coach
Sherwood High School "Stormin' Warriors"
Eric Wallich
If you are looking for high intensity training for your athletes, 'Elite Athlete Training Systems' is the best company around. I have been working with them for the past 10 years and I've watched them inspire and challenge my athletes and push them to levels of excellence that they didn't even know they could achieve. To get maximal increases in strength and athletic development E.A.T.S. is a great resource to use.
Eric Wallich, Head Varsity Football Coach
Damascus High School "Swarming Hornets"
Anil D.
Colin Quay at EATS has played a very important role in the athletic development of our two young tennis players (MS & HS Level).  He has customized a program that has tremendously helped them in becoming stronger, faster, more flexible and healthier.  He not only makes all of the workouts fun but he also keeps a very good intensity level.  We can clearly see the improved performance for both the kids.
Anil D.