Post Rehabilitation Return To Play Training
Our team of professional sports performance coaches are trained and experienced in corrective exercise and post rehabilitation training. We work in conjunction with physical therapists and use the newest technologies and techniques in athletic post-rehabilitation to help our athletes return to play faster and stay healthy in their field of competition longer.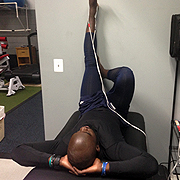 A post-rehabilitation program at a price you can afford

Session pricing starts at only $70! Contact us today to schedule your FREE consultation and movement screen.
ARPwave System Neurological Soft Tissue Therapy
We at Elite Athlete Training Services are excited to be one of the only facilities in the DMV area to be able to offer the ARPwave system and therapy protocols. "ARP" stands for accelerated recovery and performance. ARPwave is a class 2 medical device approved by the FDA for muscle re-education and relaxation of muscle spasms, as well as increasing range of motion and prevention of muscle atrophy
Common conditions ARPwave will treat:
Upper extremity pain or injuries (finger, hands, forearm, elbow, bicep, tricep, rotator cuff, and other shoulder conditions, nerve entrapments)
Back pain and headaches
Torso pain or injuries (thoracic spine, lumbar spine, ribs, and sternum, clavicle, abdominal muscle, and oblique muscle)
Pelvic pain or injuries (sacroiliac joints, sacrum, coccyx, and related musculature)
Hip pain or injury (hip flexors, gluteal, IT bands, groin musculature, joint capsules, nerve entrapments)
Upper leg pain or injuries (hamstrings, quadriceps, abductors)
Knee pain or injuries (meniscus, ligamentous, tracking deficiencies, tendons)
Lower leg pain or injuries (calf, Achilles, shin splints, nerve entrapment)
Ankle and foot pain or injuries (sprains, nerve entrapments, plantar fasciitis)
Post-surgery recovery