Dominate This Season
College and Pro teams all have dedicated sports performance training coaches. At E.A.T.S. we believe junior and high school level athletes should also have access to professional performance coaches. Combing your Skill Training with E.A.T.S. Sports Performance Training creates the ultimate athletic weapon.
E.A.T.S. professional sports performance coaches become an extension of your team. E.A.T.S. performance coaches will design, implement and measure seasonal or year-round programs for your team based on your vision. Team Performance Training programs are organized, supervised, professionally-run athletic performance training sessions designed to not only increase team strength, speed, agility, and conditioning, but also improve team unity and chemistry.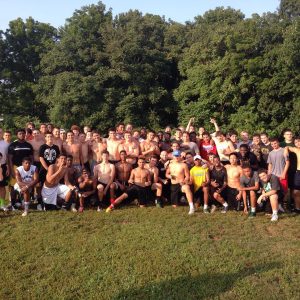 E.A.T.S. Team Performance Training will improve:
Muscular strength to decrease injury potential and increase power output
First step explosion to "get off the line" quickly
Agility to stop and change direction quickly
Linear acceleration for breakaway speed
Dynamic flexibility
Reaction time (visual and auditory)
Lateral quickness

Physical and mental toughness

Sport specific metabolic conditioning level
E.A.T.S. Performance Consultant Package'
If you need an expert to help develop your training plan, consider hiring our professional performance coaches to consult with you on your pre-season strength and conditioning program. Our coaches will design a program specific to your team's needs and train you and your staff to implement our systems.
Basic Team Package
PDF coach and athlete manual
Exercise description videos
Elite Team Package
PDF coach and athlete manual
Exercise description videos
3 Coach training sessions